The 85th Annual Academy Awards
 I love the Awards Season. I love the fashion, the music, the humor and the controversy that goes with it. I make it a point to watch all the televised awards live if time permits. This year though I wasn't able to watch the it live. Thankfully, I was able to watch a rerun of it and I just want to share my thoughts on the Oscars.
THE FASHION
Women's. Anne Hathaway has always been one of the best dressed in any awards show so it came as a surprise to me that out of all the awards show to mess up, she chose the Oscars night she was obviously going to win an award. During the Golden Globes and Critic's Choice Awards she looked gorgeous, but everyone knows the Oscars is the one you dress up for the best. The Prada dress was an epic failure, even though she won I kind of felt bad for her because she had to go up the stage with the dress she was wearing. Also a notable mess was Salma Hayek's hair and over all look, it screamed old and very unflattering.

Men's.  Most men wore the high school dress shirt under their suits, adequately sized bowtie and the beard that night. The dress shirt and bowtie was fine with me, not too dapper but very much acceptable, the beard trend coming back though is something else. I guess a few of the men missed the memo that Movember was 3 months ago. Whoever said that the beard is the new "in" thing needs to re-evaluate their life choices. On a related subject, I feel bad whenever I see Tarantino on a red carpet; he just looks like he's lost, miserable and uncomfortable with whatever it is he's wearing and would rather be somewhere else.
Best Dressed. Charlize Theron donning a Dior was classy and the most stunning dress for me that night. It reminded me of last year's Tom Ford gown worn by Gwyneth Paltrow. I think with Theron and Jennifer Lawrence advancing their cause Dior was hands down the winner for the best gowns worn in this year's Oscars. It was also a good idea to monopolize Lawrence by making her wear Dior all awards season because she basically won in all the awards shows she was in. Armani came second place with impressive gowns of Jessica Chastain and Naomi Watts.  Chris Pine wearing a double breasted Ermenegildo Zegna suit made me breathless for a moment. I just wished he shaved that day.
THE HOST
 I think Seth did a good job. He was more entertaining than Billy Crystal was last year. I still think his hosting was not as good as Hugh's though, which I think is at the top so far. I would have to admit the jokes were kind of offensive and crude but then again for a comedian like Macfarlane, he wouldn't be doing his job right if nobody gets offended. To those who feel that he crossed some kind of line, should go blame whoever chose him. What do you expect? He is after all Seth Macfarlane, he is not known for his appropriateness. Asking him to tone it down just because it was the Oscars is like getting a taco when you ordered a burger, you don't get what you pay for. At some point though, I felt like he did not make the jokes and lines came out forced and awkward. It was like he wants to apologize for it right after saying it or sometimes even before saying it. A perfect example of this was when he threw a small bottle of alcohol he swiped in the mini-bar to George Clooney right after making fun of him. On the plus side though, it's hard not to like him when he gives you that beautiful smile. His singing and dancing abilities were pretty amazing too and I like the fact that he is comfortable making fun of himself which is very charming. These things made me think that he is exactly the same as Ted (his beloved movie character) is; offensive, inappropriate and outspoken but very adorable and lovable
THE MUSIC
Music was amazing Oscar night. There were a few that made me wince a bit hello Catherine Zeta jones and Les Miserable's cast, but over all it was a good night for music. Much respect for Jennifer Hudson's voice, I really felt like it can come out of the screen and eat me alive, that's how commanding her voice is. Adele's simple and uncomplicated performances are always divine. One can just get lost in the beauty of her voice; the Oscars was no exception to this. I'm so glad she already won all that there is to be won (well, except for a tony) she deserved every one of her awards. I was pleasantly surprised to know that Scarlett Johansson can sing and that her song was also nominated as best Original Song. Barbara Streisand is a legend and as always is a joy to watch and hear. Plus it was an awesome closing by Seth Macfarlane and Kristine Chenoweth.
The Les Miserables number gave me mixed feelings, it kinda showed that it was the first time for them to sing together but Samantha Barks is amazing as always, always a pro and you can really differentiate her Broadway trained voice from the rest, Sacha Baron Cohen singing and all serious is not one you see everyday, made me remember his antics last year against Ryan Seacrest. The dancing was good too; Joseph Gordon Levitt missing a dance step was so endearing as he tried to get back to the rhythm. Charlize Theron stole the show not just because of her lovely gown but her exceptional dancing skills. She made Channing Tatum look like she was on more dancing movies than he was. Dustin Hoffman complimenting her dancing and her shy reply was so adorable.
THE AWARDS
Best Actress. Jennifer Lawrence winning the best actress award was bitter sweet for me. While I love J-Law and her movie Silver Linings Playbook I also loved Jessica Chastain's portrayal of Maya the CIA operative who got Bin Laden killed in Zero Dark Thirty. If I were to cast the person who would be the brains to kill Bin Laden, Chastain would be my 1st and only choice. I also applaud the bravery of having that kind of a movie done. It was sad that she was nominated for Dark Thirty on the same year Jennifer Lawrence was nominated for Silver Linings. Nevertheless, Lawrence's win was amazing in a lot of different ways. For such a young talent and such an awesome role; it was really hard for anybody else to compete against her. Silver Linings is such an emotionally wracking movie, I love how it allows you to have deep emotional feelings and at the same time it allows you to laugh and love the characters.
Speeches. There were a lot of good speeches delivered that day. The quirky one given by Jennifer Lawrence was adorable. Daniel Day Lewis' joking about his and Meryl Streep's swap was funny. Winner of Visual effects for Life of Pi Bill Westenhofer's speech was cut-off rudely, which was kind of infuriating, but Nicole Kidman mouthing off "poor thing" afterwards was sweet. I agree that Anne Hathaway's speech was too rehearsed. Can't blame her though, she swept the Awards for best supporting this season, she was used to delivering speeches by then. Everyone knew she was going to win that night. Seth's opening number even showed that to be of a certainty. Being the last Awards show for the season it's kinda hard for the Oscar's sometimes to keep that element of surprise.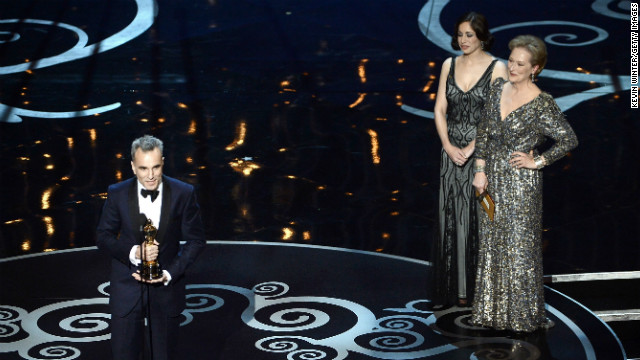 Three speeches stood out for me that night: 1st one was Sean Fine of the documentary short Inocente giving a speech honoring the life of a once homeless and struggling artist which I can totally relate to now, asking for everyone in the hall who are all artists as well to reach out to struggling artists; to help them be seen and heard so that the arts won't die hello hollywood I'm one of these struggling artists. 2nd one was Chris Terrio winning the best Adapted Screenplay for Argo and his tribute to the bravery and creativity of Tony Mendez. 3rd was Ben Affleck's speech after winning Best Picture for Argo. I won't deny it, I watched it multiple times and I cried the first 2 times I watched it. I especially loved his message to his wife and kids, he always give the best speeches.


Awkwardness. Oscars won't be complete without its fair share of awkwardness. This year's awkward moments were a bit mellow compared to the years prior. I can't shake the awkwardness I felt when Meryl Streep announced Daniel Day Lewis won the Best Actor Award and the screen turns to Hugh Jackman for a bit before turning to Lewis. Though I love Hugh Jackman I really think he had competition for the Best actor award this year, I haven't seen Lincoln so I don't know if Lewis deserved it or not. I was actually rooting for Bradley Copper to win. See I never liked him before Silver Lining, Only Bradley Cooper looks good wearing a garbage bag. Michelle Obama announcing the best picture was over the top and totally unnecessary, Jack Nicholson was more than enough to announce the Best Picture Award. But I think the most awkward thing that night was Argo winning despite the Oscar snub on its director Ben Affleck.

OTHER NOTABLE THINGS
Adorable Paperman won an award! I hope this encourages more graphic artists to do something pure and unadulterated every once in a while. Sound editing getting a tie from Zero Dark Thirty and Skyfall is one that doesn't happen very often. It was impressive that they chose film students to hand out the Oscars instead of the usual models this year. It was sweeter that they acknowledged them one by one on stage. Way to encourage the future skippers of the film industry. I love how Christoph Waltz and Daniel Day Lewis morphs when they act. In real life they look like harmless normal guys, but in movies they can transform into different characters. Daniel Day Lewis is also my Awards Season crush, his hair and sideways nose looks mighty fine.  Notable tribute was the James Bond tribute; I still believe Pierce Brosnan is the best bond yet, oh and yes I grew up in the 90's. When I saw Michael Clark Duncan in the in memoriam part I felt a wee bit sad, Mr Duncan you are missed. Kirsten Stewart's ability to look bored all the time is pretty remarkable. I wish I could carry that look as well as she does.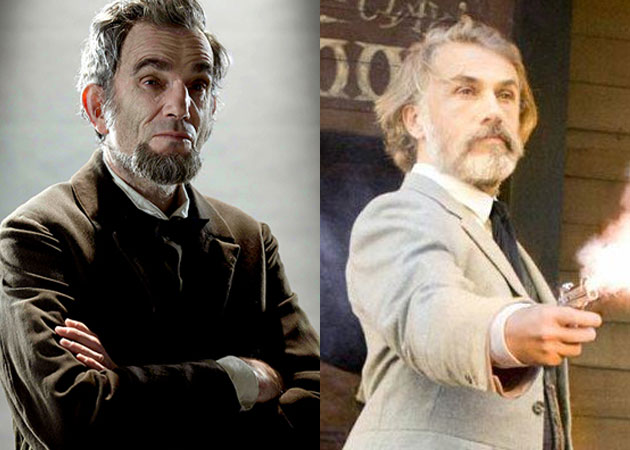 So those are the things worthy of remembering that night. Highlights are all things Charlize Theron, Jennifer Lawrence's quirkiness and Argo being the biggest winner of the night. Low points of the night were the Catherine Zeta Jones and maybe Les Miserables number, Ben Affleck snub and the men with the beard. That's all folks. Can't wait for Oscars 2014.
You have no idea how many people get to know God through you and your life.

And I thank God for being one of these people. 

Thanks Tobs, even if you have no clue about it.
(via uswnt13a17t)